About Kroneseder
About Kroneseder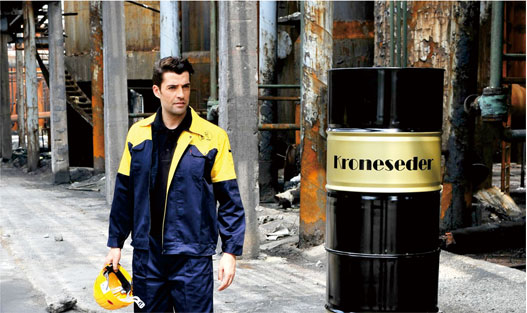 Kroneseder, a lubricant brand founded in Germany in 1948, is the birthplace of Mannheim, an important industrial town in Germany. At the time of its establishment, keseide emphasized that scientific research can lead the way, and make innovation become a brand concept. It has been engaged in the research of new lubricating oil technology. Over the past decades, cosside has created and produced four series of products, including metalworking lubricating oil, special synthetic lubricating oil, special synthetic lubricating grease, industrial lubricating grease and industrial equipment lubricating oil. We have hundreds of lubricating products, which can be used in many fields, such as electric power, steel, chemical industry, glass, papermaking, textile, cement mine, compressor, metalworking, etc.
Today, cosside's advantage is rapid innovation and product production to meet the needs of the market. We rely on the management concept of discovering and meeting customers' hopes, gathering resources and creating key competitiveness. We not only focus on developing the world's best lubricant products, but also actively promote new products to solve customers' business problems, So that all the lubrication products have real significance.
To provide meaningful products or services for customers is the value of cosside. We become stakeholders with customers, and finally become strategic partners. In this way, koseide can accurately understand the needs of customers and provide him with a complete lubrication solution. In this way, it helps customers to reduce operating costs and bring profit margin to customers. What cosside sells is not only the product, but also the complete lubrication solution. Our engineers will comprehensively check the use of lubricating oil of customers, summarize and analyze the problems found, and put forward better solutions for customers to save costs, which is free of charge.
For decades, cosside has been developing high-end, environmentally friendly and green lubricants. We produce synthetic lubricants with the latest technology to meet the challenge of rapid growth in energy demand. Cosside focuses on innovation and sustainable growth, pursues profits and high standards, and improves its influence in the Asia Pacific market. Our goal is to become the most cost-effective supplier of high-end lubricating products in the world.
Kroneseder In China
Kroneseder in China
Now, cosside has established a global production, sales and service network, with more than 100 cosside subsidiaries and a wide range of product activities in the field of lubricant service. Cosside's sales and service areas in Asia include Japan, South Korea, Singapore and other leading industrial countries. In 2010, cosside came to China to establish strategic partnership with Chinese enterprises and build systematic lubricant service network.
In addition, cosside has set up a modern laboratory in China, using imported precision instruments and employing high-quality scientific and technological R & D personnel to carry out product improvement and development and create new products. We hope that we can meet the needs of China, a market that needs more high-quality lubricants. With advanced German technology, the best production equipment in the world, the latest modulation technology, and the global unified procurement of raw materials, cosside has really made rational and effective use of the group's resources. All the factories comply with the strict quality assurance system, and have successively passed the ISO / TS16949, ISO9001 quality system certification, ISO14001 environmental system certification, bsohsas18001 occupational health and safety management system certification, so9001:2008 cosside China certificate and ISO9001:2008 cosside China certificate.
We are always at the forefront of lubricant technology research and development
Lubricant technology research and development
For many years, cosside has been a technology pioneer in the energy industry. We have more than 20 researchers and more than 100 technical engineers specializing in the research and development of lubricants, focusing on the design and coordination of Lubricant product portfolio and related technical services. As far as koseide is concerned, technological innovation is not built behind closed doors. Koseide is an organic whole, and each link is closely related. Technical engineers develop new products according to customers' needs. The emergence of new products helps customers overcome the challenges faced by the industry. Therefore, cosside creates products to meet the needs of customers, supporting higher efficiency and protecting equipment performance.
Due to the development of environmental protection and machinery industry, more requirements are put forward for lubricating oil products: high oxidation stability, energy saving and environmental protection, better viscosity temperature property, good low temperature fluidity, excellent stability and wear resistance. There will be more demands for future lubricating oil products. Energy saving, low emission, pollution-free and long service life have become the new goals of research and development of cosside lubricants.
Base oil: koseide base oil is API II / III base oil produced by hydrogenation technology, with low sulfur, nitrogen and aromatics content, high viscosity index, good thermal oxidation stability, low volatility and long oil change period.
Additive: koseide uses nano materials in lubricating oil (grease) to improve the wear resistance and extreme pressure resistance of lubricating oil. We found that nanoparticles as lubricating oil (grease) additives have a certain repair function. Nanoparticles can fill the micro pits and damaged parts on the surface of the workpiece, which can repair the friction surface and reduce the friction and wear.